Angela De Hoyos 1940 – 2009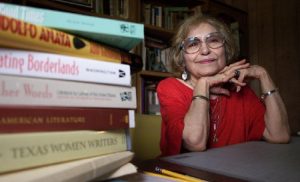 Texas Woman Authors: Angela de Hoyos was born in Coahuila, Mexico, but moved to San Antonio as a child. A political activist, her poems are considered the early fruit of the Chicano farm workers' struggles.
A unique
feature of her poems is code-switching, which in linguistics is when a speaker alternates between multiples languages in a single conversation. Anglo critics dismissed this technique as demonstrating her poor command of both Spanish and English (however, T.S. Eliot and Ezra Pound do the same thing). She wrote on the deep universal themes of death and life, using humor and multi-level concepts, symbols and images while balancing political awareness and erotic tension.
She has been honored with awards from Germany, India, Argentina, the United States, and second prize for poetry in the CSSI International Competition, Italy. Her works have been translated into fifteen languages and over one hundred reviews in a dozen countries have been written about her works. She is arguably the best known Chicana poet outside of the United States.
http://amazon.com/Woman-Angela-Hoyos/dp/1558851569/ref=sr_1_2?ie=UTF8&qid=1433459094&sr=8-2&keywords=Angela+de+Hoyos